ChemiCloud Review - One of the best Cloud Hosting 2020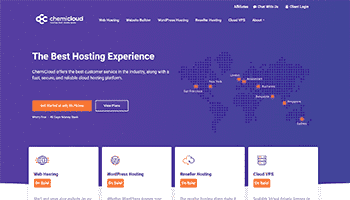 Basic features of ChemiCloud
Unlimited Websites
Free Domain for Life
Free Migrations
Free Daily Backups
Imunify360 Malware Protection
Reliable Cloud Platform
Worldwide Server Locations
Product is rated as #2 in category Cloud Hosting
ChemiCloud Contact Details
Email: help@chemicloud.com
Phone: +(1) 3027667722
Website: https://chemicloud.com
Address: 2035 Sunset Lake RoadSuite B-2; Newark, Delaware, 19702 United States
Server Locations
New York, San Francisco, United States, Toronto, Canada, London, United Kingdom, Bucharest, Romania, Amsterdam, Netherlands, Europe, Bangalore, India, Singapore, Sydney, Australia
Awards
The awards that this brand receives
Are you looking for a quality Cloud Hosting provider? If you do not know about ChemiCloud, this article will be helpful for you. There is no denying that ChemiCloud is a great option if you are starting a new website or looking for an affordable high quality server. They provide good support along with significantly good performance. In particular, it is one of the servers that give you one of the best WordPress experiences.
PROS:
Cloud based hosting
HTTP/2 enabled servers
NGINX webserver in reverse proxy
Free daily backup
All SSD based hosting
Restore on demand
Free site migration
CONS:
Prices change over time
No unlimited* storage option
Slightly pricey plans
Overview of ChemiCloud
---
ChemiCloud was founded in 2016. Although newly established, ChemiCloud quickly gained a reputation in the market. It is true to say that ChemiCloud is the most professional and reliable web hosting service provider in the world. ChemiCloud's team is very experienced and they provide customers with good quality web hosting services.
Although ChemiCloud is not a popular hosting provider such as A2 hosting or SiteGround, they are slowly gaining popularity by offering great services.
ChemiCloud Plans
ChemiCloud has created many plans along with many prices to give you many options. In fact, they fit any budget. However, there is one special thing- that is the renewal price remains the same.
ChemiCloud offers 3 basic hosting packages at affordable prices. With only $2.76 for the Starter Web Hosting plan, you can already deploy a website for business, and with Web hosting pro, you will be provided with an unlimited number of websites. For Turbo plan – the most advanced package is equipped with Turbo Boost 3x – you only pay $7.66. So with this super cheap price, is the quality of this hosting service good? We will find out more.
Web hosting starter: hosting 1 website, 1-click wordpress installation, free SSL certificate and especially free domain name (this is the best and most awesome package for any business beginner online).
Web Hosting Pro: hosting an unlimited number of websites, providing 25gb of storage, the rest is identical to Web hosting starter plan. This plan is suitable for those who want to experience multiple websites.
Turbo Web Hosting: it is almost suitable for businesses with extremely large amount of website access. When your website has been very successful, you shuold use this plan, turbo boost 3x help speed up your site loading extremely fast.
back to menu ↑
The reason why you should use Chemi Cloud
Performance evaluation
On the other hand, the faster the loading time of your website, the more satisfied your customers will get, so you will make more money. In particular, download speed is an important factor in ranking in Google search. Hence, it is better to keep your site flexible.
You also have access to CDN for free. It helps your site load faster by saving your content to a server near your visitors
Good uptime
There is no denying that uptime is important for every online business. According to an independent study conducted in 2013, every minute of downtime could cost you $ 7900.
ChemiCloud uptime is one of highest hosting up time at the present: 99.9%. In fact, millions of customers using this hosting service are very positive, they have almost no maintenance or DDOS ​​hacks do not occur.
In order to achieve such a high uptime, ChemiCloud had to isolate each hosting account, so any individual would not affect the entire server and add a web application firewall by proactive server monitoring. On the other hand, servers are monitored 24/7, so any unwanted issues can be solved in a very short time.
Customer support
There is no denying that for any hosting company, the technical support team plays a very important role. They will definitely need a helpful technical support team to address issues like hacked websites or an unsupported plugin. ChemiCloud is no exception. They have a 24×7 support team for their customers. The average response time is 15 minutes when contacted via tickets and 2 seconds when contacted via live chat. You will find what you need and we assure you that ChemiCloud's support is better than many other providers.
Backup for free
You should always have a backup of the site and its database for security. This is essential because it helps you not to lose data. ChemiCloud provides a free backup solution. Your backup is saved for 30 days. It is great because the recovery option is also simple and hassle-free, it can be done via cPanel.
HTTP / 2 Enabled
The use of HTTP / 2 significantly improves website speed, so it is no surprise that HTTP / 2 is becoming more and more popular. With Google putting more value into the site speed in their search algorithm, you can't ignore HTTP / 2 and the benefits that it can bring to your site.
Provide SSL and CDN for free
According to Google, they need all websites to use SSL. In fact, this will be a ranking factor on the search list. Understanding that, ChemiCloud provides you with free SSL through Let Encrypt. Along with free SSL, you get access to free security with a web application firewall.
On the other hand, users also get the free CDN service that Cloudflare offers. CDN stores your content on a global server network and serves your static content to visitors from the nearest server. Thanks to that, it provides better performance.
45-day Security Guarantee
There are many providers that offer you a refund if you are not happy with their service. But you will only get a refund in case there are any unresolved technical issues, so if you do not like using their services anymore, you will be stuck. Not the same as them, ChemiCloud offers unconditional money back guarantee so you can safely try them out easily.
All in all, ChemiCloud is one of the providers with a solid reputation in the hosting industry. If you are interested in managing WordPress hosting, ChemiCloud's vibrant LiteSpeed ​​and PHP7.x features along with unbreakable firewalls and Imunify360 Proactive Defense, no doubt, ChemiCloud is a great choice. If you have too much money and need more expensive plans, ChemiCloud really does not suit you.
The Price is Outstanding
Considering that paying for three years is just over $100, $2.95 a month for this full featured and incredibly fast Cpanel server is a great value.
Key features
Support transfer and install free website.
Data is stored in the cloud
All SSD Web Hosting.
The system is backed up daily
45-day money back guarantee
Support recovery on demand

Cpanel

ChemiCloud has a full-featured Cpanel available even in their starter plan. All of the normal expected features are included with nothing missing.

back to menu ↑

Fast and Accurate Support

I have had the opportunity to submit five tickets so far to ChemiCloud support. With amazingly fast response times. A couple of the tickets were responded to withing 2 minutes. The others were answered within 10 minutes.
Specification:
ChemiCloud
| | |
| --- | --- |
| Server locations | New York, San Francisco, United States, Toronto, Canada, London, United Kingdom, Bucharest, Romania, Amsterdam, Netherlands, Europe, Bangalore, India, Singapore, Sydney, Australia |
| Money-Back Guarantee | |
| Uptime | 99.99% |
| Specialised Hosting | Drupal Hosting, Forum Hosting, Joomla Hosting, Magento Hosting, Prestashop Hosting, Wiki Hosting, Ecommerce Hosting, Windows Hosting, WooCommerce Hosting, WordPress Hosting |
| Security Features | Automatic Site Backup, Ddos Protection, SSH Access, Two-Factor Authentication, Virus & Malware Protection |
| Included Promo | Free CDN, Free Domain, Free Migration/Transfer, Free SSL Certificate, Free Website Builder, Money Back Guarantee |
| Disk Type | SSD |
| CPU | 2 Core, 4 Core, 6 Core, 8 Core |
| Memory (RAM) | 4GB, 8GB, 16GB, 32GB |