WPXHosting Review - Is this provider good? We Ask The Important Questions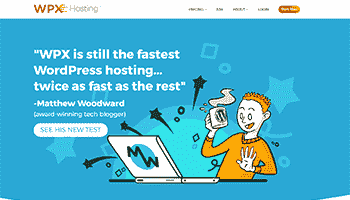 Basic features of WPXHosting
Unlimited site migration
Manage full backup
Unlimited email address
FREE SSL certificate
Free malware removal
Product is rated as #9 in category Web Hosting
WPXHosting Contact Details
Email: support@wpxhosting.com
Phone: 359877663991
Website: https://wpxhosting.com
Address: ulitsa "Solunska" 27, Sofia, Bulgaria
Awards
The awards that this brand receives
Server Locations
Chicago, United States, London, United Kingdom
Without a doubt, WPX Hosting, one of the best WordPress hosting companies. WPX Hosting is a functional and cost-effective hosting solution for small to medium-sized businesses and large businesses. WPX Hosting software is highly appreciated by both users and experts in the field of Managed Hosting Providers.
PROS:
They were the fastest.
They had the best support
They're also super affordable
Free backups and website migration
DDOS protection
Staging area
Free SSL certificates
About WPX Hosting
---
Here are the reasons you should use WPX Hosting
Advantages of using WPX Hosting
Good performance
99.95% uptime seems super high, but it is still not perfect. When you actually look at 99.95% uptime; that means 99.95% uptime during a month is more than 21 minutes of downtime. In fact, during a month, it was not a serious problem. But if you are running a business, that is a pretty risky number.
Although I am not too impressed with its uptime, I find that WPX usually has a much better uptime than other providers. So in general, WPX has great uptime and guarantees at a minimum compared to what you expect.
In addition to uptime, response time is also an important factor. Page speed is a pretty important factor. And fortunately, WPX provides that very well. Part of this is thanks to the custom content distribution network (CDN) of WPX Hosting.
Features are generally good, especially in terms of security
There is no denying that WPX Hosting has great hosting features. Specifically, here are their plans and features:
The main difference between these plans is the amount of resources: the number of sites allowed, storage and bandwidth. In addition, all plans of WPX Hosting have the same features and advantages. All plans are integrated with CDN. CDNs are very effective in increasing the performance of your website, especially if you have visitors from everywhere.
Basically, all 3 plans allow you to create test versions of your website. You can check out themes and plugins safely.
On the other hand, WPX Hosting itself is optimized for WordPress. You will get free and unlimited site migration support. But as mentioned above, what particularly impressed me is the security features of WPX Hosting. WPX Hosting offers you Unlimited SSL, daily DDoS protection, daily malware scanning and deletion, regular / automatic backup and manual backup.
It is true to say that these features are great for anyone. In particular, they are essential for anyone who wants to organize an important project.
Great customer support
Typically, as a company that primarily provides managed hosting, customer support is excellent, and WPX Hosting is no exception. To solve your problems, you may be able to contact their customer support team quickly via email / ticket or live chat.
In fact, many hosting companies respond to the technical issues your site faces by guiding you by support articles and asking customers to find it themselves. They will only help after you have tried to solve your problem yourself. WPX Hosting offers more proactive support features. WPX Hosting he support team will support you as quickly as possible and completely free of charge
They will also handle many other things, but there are some limitations. For example, if a third-party plugin or software doesn't work, they really can't fix it for you.
On the other hand, WPX Hosting provides an easy-to-use, knowledge-driven knowledge base and it's easy to browse articles until you find what you want.
Plans can be paid monthly
In fact, there are many hosting companies to advertise their plans with prices charged monthly. But when you check the details, you find that for that price, you pay for a year or more. For WPX Hosting plans, you can pay monthly instead of paying a large fee. However, the price is actually higher if you pay by the month
As you can see, with a business plan, it costs about $ 4 a month, or a total of about $ 48 a year; with the professional plan, more than $ 8 a month, or an extra $ 100 over the course of a year. Therefore, you can completely pay by the month. It allows businesses to use high quality managed hosting services, without too much investment and commitment over the long term. But I encourage you to pay by the year because it will be cheaper.
WPX Hosting runs its own servers
You may not know that there are even larger and more famous hosting companies that do not run their servers directly. Instead, they use third party servers. This is not necessarily bad because it can streamline everything and ensure good standards are maintained on a large scale. However, this also adds insecurity. It increases the number of entities involved in carrying your information and supporting your website, so it is risky.
WPX runs directly on its own servers, which means a higher level of quality is guaranteed
Easy to use
While this benefit may not be a surprise to you, it still needs to be stated. In general, WPX Hosting is easy to use with a very simple and logical platform. So it is suitable for beginners.
back to menu ↑
Disadvantages of using WPX Hosting
Besides the great advantages, WPX Hosting has few drawbacks that you need to consider.
The price is expensive
With WPX Hosting, the price is high because this is a managed service. However, for what it offers, its price is reasonable.
Cameron's managed section does not include plugin updates
In fact, most of the things on this list are usually not included in other managed WordPress hosting plans. Usually, plugins and themes will be updated automatically,
back to menu ↑
In conclusion
So after all, I recommend that you should use WPX hosting. WPX has a few drawbacks but that does not mean it is not for everyone. WPX hosting works very well, has a lot of features, including great security perks and great customer support.
If you do not want to manage specific hosting or want managed servers to automatically update WordPress plugins and themes, WPX does not suitable for you.
Specification:
WPXHosting
| | |
| --- | --- |
| Server locations | |
| Included Promo | Free CDN, Free Migration/Transfer, Free SSL Certificate, Free Website Builder, Money Back Guarantee |
| Memory (RAM) | 8GB, 16GB, 32GB |
| CPU | 2 Core, 3 Core, 4 Core, 6 Core, 8 Core |
| Specialised Hosting | Drupal Hosting, Forum Hosting, Joomla Hosting, Magento Hosting, Prestashop Hosting, Wiki Hosting, Ecommerce Hosting, Windows Hosting, WooCommerce Hosting, WordPress Hosting |
| Uptime | 99.95% |
| Money-Back Guarantee | |
| Disk Type | SSD |
| Disk Space | 10GB SSD, 20GB SSD, 40GB SSD |
| Security Features | Automatic Site Backup, Ddos Protection, SSH Access, Two-Factor Authentication, Virus & Malware Protection |
| Number of Website | 5 Website, 15 Website, 35 Website |
All Packages
WPXHosting WordPress Hosting
Plans
Storage
Website
bandwidth
price