Hostiso Review - Is It A Right Choice To Host WordPress Website?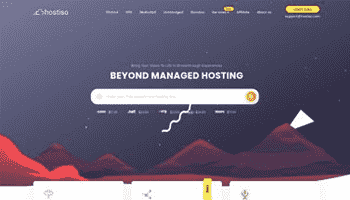 Basic features of Hostiso
Softaculous auto-installer
Free domain for life
Free premium support
Unlimited email accounts
Daily, weekly, and monthly backup
Product is rated as #3 in category Shared Hosting
Hostiso Contact Details
Email: support@hostiso.com
Website: https://hostiso.com
Address: Hardstrasse 235, 8005 Zürich
Server Locations
St. Louis, United States, Roubaix, France, Montreal, Canada, Munich, Germany, London, United Kingdom, Singapore, Sydney, Australia
Awards
The awards that this brand receives
Hostiso.com offers a wide range of data storage solutions, such as information sharing, information storage. To do this, Hostiso must ensure the best security for server computer. Since 2010, they have provided this service to many customers around the world. And why we do not find out that Hostiso.com has something special before using this service?
PROS:
Free Domain Name
Free SSL Certificate
60 days moneyback guarantee
99.99% uptime
Unlimited email accounts
About Hostiso
---
Hostiso.com is a website about technology. It was be established in 2010. This website provides information storage services for customers. Headquarter of Hostiso is located in Germany. After 10 years, Hostiso has been running data and services for clients in five countries: Canada, Germany, France, the United States and Singapore. Over the years, Hostiso has won much sympathy and trust from many customers.Now, Hostiso provides mainly three service packages:
Web Hosting Packages
Plans:
Shared Hosting.
VPS Hosting.
Dedicated Hosting.

Cloud ServerEach of these services is divided into different service packages ranging from low to high.

The common features of them are:

Very good quality, stable operation.
Long-term warranty.
A variety of Payment methods.
If there is a difference in Hostiso, it will be "Hostiso offers immediate activation method when you completed your payment". After confirming the payment, your server will be set up right away. Setup time is only about 5 minutes. Then you can use and deploy all services within 1 hour.You may be worried about latency and bandwidth, but you can be quite because with 100 Gbit capacity, the system can handle large data sources with low latency and high bandwidth. In addition, technical staff will also help you perform other tasks as required.We believe that your system is constantly attacked by many factors. Do not worry, Hostiso will provide the most up-to-date security mode for your serve computer. And, you will not have to pay any additional costs.
Hostiso service packages
As we said, Hostiso offers many different hosting packages. These packages are suitable for large and small businesses. Their service packages are varied, whether Shared Hosting, VPS Hosting or Dedicated Hosting, Hostiso divide them into 3 service levels: – Basic package. – Business package. – Pro package.
back to menu ↑
Basic SSD Package
Firstly, we want to talk to you about the basic Packages. It is the popular service package for individuals. This service pack allows you to use an unlimited number of domains, 100 GB of RAID and unmatched bandwidth. This service pack is suitable for individual web pages with moderate traffic.
back to menu ↑
Business SSD Package
Secondly, business packages is the most popular service packages. Similar to the basic packages, customers will be using an unlimited number of domains, unmatched bandwidth and 500 GB of RAID. This packages is well suited for large business which has powerful website system.
back to menu ↑
Pro SSD package
If you have high memory and domain requirements, you can consider the pro packages. It is suitable for companies which need carefull management about information. In addition to shared hosting, Hostiso also offers custom storage solutions for businesses with strict security requirements.All three packages can be run by an application installer. You can pay by month or year. Of course, when you pay by year, you will save a lot of money compared to pay by month.If you want, you can spend a few dollars to extend your web resources with by some utilities such as Spamtrawler Protection, Dedicated IP, Cloudflare Pro and SSL.Hostiso is still providing greatly 24/7 support to their customers. They have technical staff and customer care staff with good skills and enthusiasm. They will help you set-up the server properly, update your software, and monitor the serve activities.Hostiso provides information storage services for all objects, especially businesses. Storage solutions are shared with the best security by special support of Linux.
back to menu ↑
Advantages of Hostiso
Servers are strictly managed, security is very good.
Data is backed up regularly.
Support insurance cost.
The staff is available to answer questions, solve problems for customers anytime, anywhere.
Hostiso allows customers 60 days to refund.
SSL and domain are free with all service packages.
back to menu ↑
Disadvantages of Hostiso
Despite the great staff but the demand of customers is too high. Sometimes, the staff can not respond promptly.
No telephone support is available.
back to menu ↑
Some customer reviews
A guy named Rob who used the service of Hostiso in 2017 shared that:
"Hostiso is a reliable address for us, the service here is very good, stable operation and especially reasonable price. In the future, I will continue to use Hostiso service if they maintain the quality of the service as they are present. If I have a chance, I will introduce Hostiso to my friends".A technology expert also shared about the quality of Hostiso's services:
Rob
"I've been using Hostiso for many years, and I know technology is always changing, but Hostiso has done a great job as a service provider."Not only quality of service but also quality of Hostiso service is worth considering.
Blind
"I have been using Hostiso's service since 2014 and have not had any dissatisfaction with the attitude of the staff. The technical staff here have very good skills and customer service staff extremely fun with customers".
N. Nguyen
You can contact Hostiso through their website or portal. If you need a quick response, please contact Hostiso soonly, you will receive an early response.
back to menu ↑
FAQ
We currently have 21 discount codes in active with Hostiso , access and enjoy saving money at Hostiso.com, discount opportunities now with Hostiso Coupon Codes. You can see more of these promotional offers:
Yes, you can add a discount code to the Hostiso brand on this site, via the link Can I submit a Hostiso coupon code, This will save more members.
You can save 15% Off with the latest Hostisodiscount codes, find this promotion content: 15% Off on Web Hosting Plans at Hostiso.com
| | |
| --- | --- |
| Included Promo | Free CDN, Free Domain, Free Migration/Transfer, Free SSL Certificate, Free Website Builder, Money Back Guarantee |
| Uptime | 99.99% |
| Memory (RAM) | 3GB, 6GB, 8GB, 10GB, 16GB, 32GB |
| CPU | 2 Core, 3 Core, 4 Core, 6 Core, 9 Core, 12 Core |
| Server locations | St. Louis, United States, Roubaix, France, Montreal, Canada, Munich, Germany, London, United Kingdom, Singapore, Sydney, Australia |
| Specialised Hosting | Drupal Hosting, Forum Hosting, Joomla Hosting, Magento Hosting, Prestashop Hosting, Wiki Hosting, Ecommerce Hosting, Windows Hosting, WooCommerce Hosting, WordPress Hosting |
| Security Features | Automatic Site Backup, Ddos Protection, SSH Access, Two-Factor Authentication, Virus & Malware Protection |
| Number of Website | Multiple Websites |
| Money-Back Guarantee | 60 Days |
| Disk Type | SSD |
All Packages
Web Hosting packages from Hostiso.com
Hostiso SHARED HOSTING
Plans
Storage
Website
bandwidth
price
Hostiso Unamanged VPS Hosting
Plans
cpu
memory
bandwidth
price
Hostiso Managed VPS Hosting
Plans
cpu
memory
bandwidth
price
Alternatives
Hostiso Alternatives