CloudWays Review - And the advantages of Cloud Hosting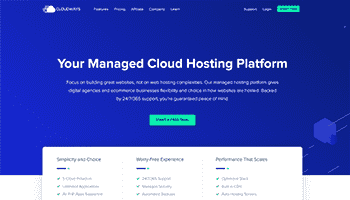 Basic features of CloudWays
Folder-like structure for managing multiple projects
Free Cloud CDN and HTTPS support
All PHP Apps Supported
Git integration for instant deployment
Staging area for testing websites
Vertical scaling of servers
Unlimited Applications
Product is rated as #11 in category Cloud Hosting
CloudWays Contact Details
Email: pr@cloudways.com
Phone: +35635500106
Website: https://www.cloudways.com
Address: Mosta, Malta
Server Locations
Atlanta, Chicago, Dallas, Fremont, Oregon, Los Angeles, Miami, Newark, New York, Iowa City, San Francisco, Seattle, United States, Paris, France, Montreal, Toronto, Canada, Frankfurt am Main, Germany, London, Amsterdam, Netherlands, Bangalore, Mumbai, India, Seoul, Korea, Singapore, Tokyo, Japan, Sydney, Australia
Awards
The awards that this brand receives
Are you looking for a good hosting platform? The following article will help you have useful information about Cloudways.com, from which you will get answers to yourself. There are hundreds of web hosting options, each with a lot of different storage, one of the best in the world must include cloud computing. When you search for managed cloud storage, Cloudways.com is one of the first to appear. Since its inception, Cloudways.com has provided one of the top managed cloud storage services, and today we want to show you all that Cloudways can do.
PROS:
Free Trial Available
Free Site Transfer
Free SSL Certificate
Automated Backups
Chat Support Live 24/7
Fast Page Load Time – 540ms
Easy to Use Control Panel
CONS:
Premium Support Costs Extra
Extra Cost for Email
No Domain Registration
Overview of CloudWays
---
What are cloudways?
Cloudways is one of the leading cloud storage providers. What is cloud storage? It is quite similar to what it sounds like – store via cloud. Basically, a large number of servers in the real world work together as a system to provide stable and secure storage for virtual servers. This means higher performance with less downtime at lower costs and with even greater web hosting flexibility.
Cloudways is a cloud-based storage house that provides storage options for easy-to-use applications, enabling customers to focus on developing web applications and businesses, while they focus on focusing. Help customers in terms of hosting.
They see themselves as a "one-stop shop" that meets all application storage needs, while focusing on simplifying the customer experience. They have helped a number of companies with application hosting needs, as well as lots of customers around the world.
With servers located in Spain and Dubai, they really focus on serving global customers. As a cloud web hosting company, Cloudways provides managed cloud storage options so that customers can easily run applications and focus on the business instead of spending time researching. Find out how to build and run the application.
The managed hosting services mentioned above include Magento, WordPress, Joomla, etc. They also have a number of other services, such as email, DNS, and load testing, that provide high-quality services exactly what their customers need.
back to menu ↑
What makes Cloudways special?
Cloud Hosting is available from several well-known hosting companies, but Cloudways has taken it to the next level. They have improved the traditional cloud to bring you a number of managed cloud storage options with outstanding features.
First of all, they use the latest servers and systems (Nginx, Redis, MySQL, Varnish, Memcached and Apache to be specific) as part of their performance stack.
In addition, they pre-installed their useful Breeze Cache Plugin, which includes features for file exclusion, grouping and shrinking, as well as Gzip compression for optimized file sizes. This great combo is what makes Cloudways hosting fast and reliable.
The other big part about Cloudways as opposed to some of their competitors is that they provide managed server-side security with all their plans. They use multiple layers of protection (like firewalls, 2-factor authentication and IP whitelists) along with automatic updates to keep all servers on their platform up to date.
In addition, you will find it hard to find another server that allows you to choose from a variety of platforms (DigitalOcean, linode, VULTR, Amazon, Google), unlimited settings, group collaboration, server expansion Easy and incredible user-friendly control panel (which you'll see more snapshots later) and free SSL certificate via Let Encrypt.
back to menu ↑
The advantages of CloudWays
Stack optimization
As a platform, Cloudways has been successful because of the technology that it built to deliver high performance services with quality of scalability and upgrade. The platform uses many tools for an advanced storage mechanism like Nginx, Varnish for reverse authorization, and Redis for storage database queries.It supports both MySQL and MariaDB for the database to run. The application is on the latest PHP version.
Free SSL certificate
Cloudways provides free SSL certificates to users through Let Encrypt. SSL is important for the security and authenticity of websites on different web browsers. This also improves the SEO rankings of your website.
High performance features
As a platform, Cloudways is mature and pays attention to the details. It is well equipped with features required by many. Take a deep dive to discover the featured platform to provide.
Many applications
At Cloudways, users are not limited to one application: many applications can be launched on a server and include applications of different types. For example, on one server I can install WordPress, Magento and PHP applications simultaneously.
Copyright
This feature allows users to copy their application to the same and to another server easily. Cloudways also allows its users to make a complete copy of their server. Cloning apps / websites is ideal for developers who can make multiple copies and modify them according to customer requirements.
Move the site
Move very easily with Cloud Platform. The migration plugin can be used to move any WordPress site from any location to the Cloudways server. This makes the use of the user easier.
Ability of extension
Depending on the server, Cloudways users can scale their servers vertically almost instantly. This does not require any approval from the support team and can be done by the platform itself.
Monitoring
Server monitoring is important to understand your consumption at any time. This allows you to better organize your costs and resources with your ROI. Cloudways has a complete monitoring module that allows you to view statistics in real time as well as have built-in new relics.
Terminal environment
Cloudways recently launched its complete staging feature through which files and databases can be pushed and pulled from the application. This is a great feature because it allows users to work freely on the site without duplicating or moving the entire site from the development environment to the production environment.
This feature is still in beta state and has been extensively tested by Cloudways Team and its customers. Staging is an ideal solution for all web developers to test new features on their websites and to push or pull code selectively without affecting the website directly. In addition, Cloudways also provides stratified URLs to test websites that can be copied to the production server when development is complete.
back to menu ↑
Price
Cloudways has packages available for all types of customers. Cloud hosting package containing bloggers, freelancers, business owners large and small. The lowest package is DigitalOcean's 1GB server starting at $10 / month, able to maintain 30K traffic plus visitors. Other packages come with a different set of hardware and vendors.
Managing cloud storage makes life easier and this is exactly what Cloudways does. Many complex features can be managed with just one click. Through this article, you must have found the best hosting for your computer.
| | |
| --- | --- |
| Server locations | Atlanta, Chicago, Dallas, Fremont, Oregon, Los Angeles, Miami, Newark, New York, Iowa City, San Francisco, Seattle, United States, Paris, France, Montreal, Toronto, Canada, Frankfurt am Main, Germany, London, Amsterdam, Netherlands, Bangalore, Mumbai, India, Seoul, Korea, Singapore, Tokyo, Japan, Sydney, Australia |
| Included Promo | Free CDN, Free Migration/Transfer, Free SSL Certificate, Money Back Guarantee |
| CPU | 1 Core, 2 Core, 3 Core, 4 Core, 5 Core, 6 Core, 7 Core, 8 Core, 9 Core, 10 Core, 12 Core, 14 Core, 16 Core, 24 Core, 28 Core, 32+ Core |
| Memory (RAM) | 512MB, 1GB, 2GB, 3GB, 4GB, 5GB, 6GB, 7GB, 8GB, 16GB, 32GB, 64GB, 128GB, 256GB+ |
| Security Features | Automatic Site Backup, Ddos Protection, SSH Access, Two-Factor Authentication, Virus & Malware Protection |
| Uptime | 100% |
| Specialised Hosting | Drupal Hosting, Forum Hosting, Free Hosting, Joomla Hosting, Magento Hosting, Prestashop Hosting, Wiki Hosting, Ecommerce Hosting, Windows Hosting, WooCommerce Hosting, WordPress Hosting |
| Money-Back Guarantee | |
| Disk Type | SSD, SSD NVMe |