Dedispec Review - A high-capacity hosting provider at an affordable price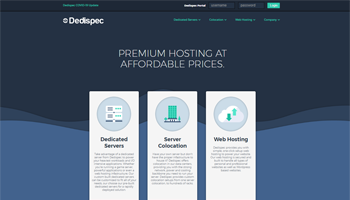 Basic features of Dedispec
DDoS protection is included
Require custom partitioning
IPMI is available on some systems
Temporary availability of KVM-over-IP
Free Malware removal
Anytime Money Back Guarantee
Product is rated as #1 in category Dedicated Server
Dedispec Contact Details
Email: sales@dedispec.com
Phone: 240-310-9342
Website:
https://dedispec.com
Address: 8400 Normandale Lake Blvd., Suite 920, Minneapolis, MN 55437
Awards
The awards that this brand receives
Server Locations
West Virginia, Missouri, Dallas, United States
If you are looking for a high-capacity hosting solution at an affordable price, Dedispec is a good choice for you. Today, the technology industry is growing day by day. Therefore, you are often overwhelmed by the number of options available to you, especially for beginners. Knowing this, Dedispec has set a goal of providing the best possible experience for their customers. Dedispec cares about every type of customer so they can fully understand the customer's actual needs.
PROS:
Redundant cooling systems
UPS conditioned power
Backup generators
99.99% power uptime
Privately owned and operated
On-site Technicians Available
Private and secure access 24/7
Locking cabinets available
Workbenches available
On-site Server Administrators
About Dedispec
---
Overview of Dedispec
Dedispec was founded in 2012. The fact of the matter is that the mission of this hosting provider is to provide exceptional quality hosting solutions at affordable prices. Dedispec provides dedicated servers, colocation, web hosting, and VPS hosting to customers in over 70 countries around the world. They serve customers from individual users to large business users.
At the present age, Dedispec operates two large facilities in Berkeley Springs, West Virginia and Kansas City, Missouri. Thanks to that, Dedispec can provide optimal locations for their businesses and customers easily.
On the other hand, Dedispec is one of the few private companies, which means it is not owned by any corporation. In addition, Dedispec employs some of the top talents in the hosting industry and they are trying every day to build new custom solutions for each of their customers.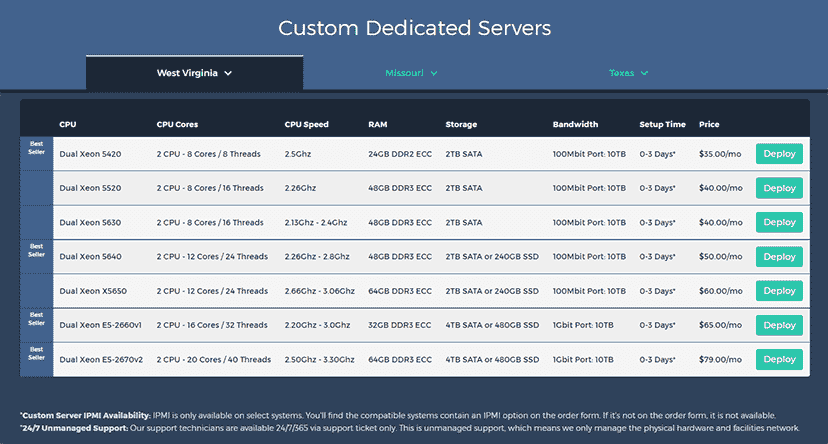 Why should you use Dedispec?
Safe, secure & reliable data centers
They have 3 data centers including Berkeley Springs, West Virginia Data Center; Dallas, Texas Data Center and Kansas City, Missouri Data Center. In fact, all 3 data centers have advanced connectivity as well as strong infrastructure and cooling infrastructure, backup power supplies, backup UPSs as well as backup generators. With redundant cooling infrastructure, Dedispec can keep each data center at below average temperatures. Thanks to that, they can provide optimal routing in the United States, as well as Canada, South America, Mexico and Europe.
Technical support team
Dedispec has a customer support team ready to help with customer requests. They are available to answer any questions or assist you with any issues that may occur as quickly as possible.
Provides high-capacity hosting solution at an affordable price
Dedispec provides a great solution for many of your high-performance needs – a dedicated server. Thanks to using it, you will be able to build your server according to the needs specific to your business. In particular, you do not need to share resources with other users. There is no denying that you will find all solutions through Dedispec. Dedispec offers high-end configuration at an affordable price, so you should consider their dedicated servers.
– Offer a variety of different drive formats including solid state drives and SATA hard drives.
Dedispec servers offer a variety of drive formats, including solid state drives and SATA hard drives. In addition, select servers also offer SAS drives.
– Backed by fully redundant.
– All servers have 100Mbit and 1Gbit port options.
100 Mbit and 1 Gbit port options, with select servers also offering 10Gbit ports integrated with all of their servers.
– Free DDoS Protection.
All servers in the Kansas City data center are integrated with 2G of DDoS mitigation. Additionally, additional levels of DDoS protection are available as an upgrade.
– Provide IPMI/KVM for free
All custom dedicated servers come with temporary KVM-over-IP or free IPMI.
– 24/7 Support.
Their technicians are always available to handle any questions or problems that arise. Server administrators are also available on the premises for all managed dedicated server customers.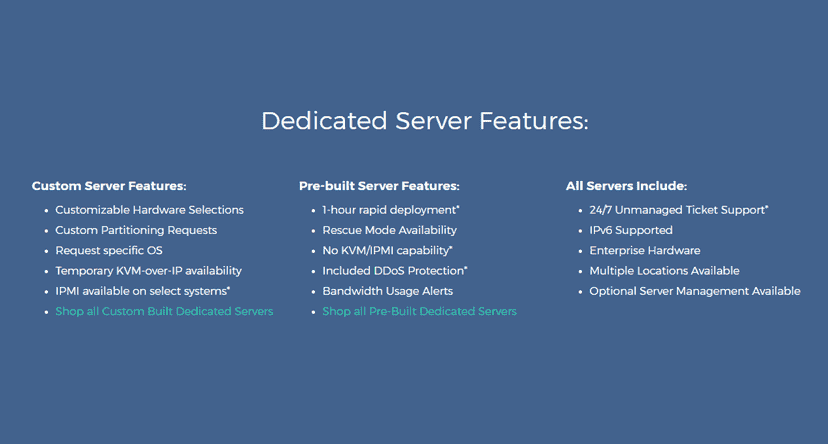 Dedicated Server Features:
Custom Server Features: Customizable Hardware Selections, Custom Partitioning Requests, Request specific OS, Temporary KVM-over-IP availability, IPMI available on select systems.
Pre-built Server Features: 1-hour rapid deployment, Rescue Mode Availability, No KVM/IPMI capability, Included DDoS Protection, Bandwidth Usage Alerts.
All Servers Include: 24/7 unmanaged ticket support, IPv6 supported, enterprise hardware, multiple locations available, optional server management available.
Web Hosting Features
High-end Servers
With the use of powerful Intel Xeon servers for all web hosting customers, all customers are backed by advanced server-level technology.
24/7 Support
The concierge service is available 24/7 to handle any questions or problems that arise with your web hosting service. You can ask for their help anytime of the day.
1-Click Installs
With Dedispec's web hosting plans, you will be able to install applications like WordPress, Magento, Joomla and more with just 1 click. You can do this directly from your Control Panel.
Easy to use Control Panel
The fact of the matter is that all Dedispec web hosting packages come with easy to use Control Panel. There is no denying that their Control Panel makes it easy to manage every aspect of your website.
Free DDoS Protection
When you use Dedispec's hosting plan, your website will be backed up daily and kept on their backup servers. They are very useful in case of data loss or other emergencies
Redundant Low Latency Premium Network
In fact, users will be backed by our fully redundant, ultra low latency premium network.
Colocation
This hosting provider provides high-end colocation connectivity Ashburn, VA. And .Dedispec provides famous high-quality internet connections in Ashburn because they are located in Berkeley Spring, West Virginia. It is true to say that this location is a premium option for providing data worldwide as it connects to most major cities in the United States, Canda, South America, and Europe.
Dedispec gives users a complete backup as well as continuous security and monitoring to ensure your data is always safe and secure.
| | |
| --- | --- |
| Server locations | |
| Included Promo | Custom Server, Free DDoS Protection, GPU Server, Money Back Guarantee |
| Memory (RAM) | 8GB, 16GB, 24GB, 32GB, 48GB, 64GB, 96GB, 128GB, 256GB+ |
| CPU | 2 Core, 4 Core, 6 Core, 8 Core, 12 Core, 16 Core, 24 Core |
| Uptime | 99.99% |
| Money-Back Guarantee | |
| Disk Type | HHD, SSD |
| Disk Space | 10GB SSD, 20GB SSD, 40GB SSD, 60GB SSD, 75GB SSD, 100GB SSD, 150GB SSD, 200GB+ SSD |
| Security Features | Automatic Site Backup, Ddos Protection, SSH Access, Two-Factor Authentication, Virus & Malware Protection |
All Packages
Dedispec Hosting
Plans
Storage
Website
bandwidth
price