G-Core Labs Review - With multiple locations around the globe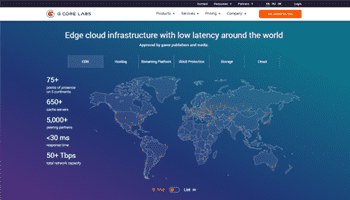 Basic features of G-Core Labs
The large network consists of nearly 50 PoPs
Well designed web control panel
Many data centers around the globe
Global insurance
Lots of features and good performance
More than 300 cache servers
Average response time <50 ms
Nearly 400 cache servers
Product is rated as #1 in category Web Hosting
G-Core Labs Contact Details
Email: sales@gcore.lu
Phone: +352 208 80 507
Website: https://gcorelabs.com
Address: 2 Rue Albert Borschette, 1246 Luxembourg
Server Locations
Almaty, Bangkok, Buenos Aires, Dubai, Istanbul, Johannesburg, Khabarovsk, Kiev, Melbourne, Milano, Moscow, Novosibirsk, Prague, Santa Clara, Tashkent, Tel Aviv, Vienna, Vladivostok, Warsaw, Yekaterinburg, Chicago, Miami, New York, St. Louis, United States, Paris, Roubaix, France, Montreal, Toronto, Canada, Frankfurt am Main, Munich, Germany, United Kingdom, Amsterdam, Sao Paulo, Mumbai, Hong Kong, Seoul, Singapore, Tokyo, Australia
Awards
The awards that this brand receives
Modern technology is developing more and more, people increasingly require multi-functional software. Gcore Labs is one of the most engaged providers. So, what good is Gcore Labs and what benefits are worth your trust. You will always want to participate in systems that are diverse and beneficial to you. Too annoying to join many different applications to do a good job. You should choose suppliers with a diverse product system. They can provide you with hosting services, security protection services from cyberattacks, cloud storage,. . . diverse communication platforms. Gcore Labs is a diversified service provider and is trusted by many people around the world. They are new innovators and know how to further diversify their products. Is Gcore Labs really good or not? Join us to find out in the article below!
PROS:
Real-time monitoring support
24/7 customer support
Free initial setup
Users can upgrade at any time
CONS:
Average speed results in CDNPerf
Basic support site
Email support during business hours
Free trial requires payment
About G-Core Labs
---
What is G-Core Labs?
Gcore Labs is a company that provides technology software services, storage services, cloud computing and a number of other services. The company was founded in 2012 with 7 main data centers. By 2013, the number of data centers had grown to 23. The company also set a world record for the most simultaneous online participants on a MOG server.
The world of technology is constantly evolving and so is Gcore Labs. It has provided many services and plans to develop the platform. Some of the services and platforms that Gcore Labs is developing:
– Global Hosting Service G-Host
– Global Content Delivery Network G-CDN
– Cloud storage service G-Storage
– Service to protect you from DDoS attacks, G-Protect
– G-Stream Media Platform
– IT infrastructure management and custom software development
This company always focuses on research and development of its services. The number of people participating in the Gcore Labs system is increasing so they have grown and have more than 100 nodes on the continents. In addition, the Gcore Labs website is developed internationally with translation into many different popular languages ​​such as English, Russian, Chinese and Korean.
G-Core Labs is a global cloud system and they are also a leader in providing outstanding web performance, server resource delivery, and best security. G-Core Labs is headquartered in Luxembourg, where its global infrastructure is included in the Guinness Book of Records.
G-Core Labs for SSD server quality as well as 4K video rendering at superb speed. Large control times can be observed in seconds between demand as well as response. Professional service support team from the supplier, they are very proficient in supporting and serving customers. The anti-DDoS system is protected through highly configurable servers. Together with system DNS caching technology helps improve performance for the entire system.
G-Core Labs offers a variety of hosting services for all types of customers. Enterprise solutions include storage, CDN networking, with the most advanced media platform for top specialist programs. The system is protected against DDoS attacks of any degree, with a cloud content storage system, etc. G-Core Labs has grown that to expand its own global network in all continents (with nearly 200 nodes in reliable Level 3 information base) with the best CDN efficiency in Russia, region in Asia as well as CIS.
back to menu ↑
The diverse system of G-Host hosting servers
Gcore Labs is said to be quite diverse in terms of hosting services. It provides and develops mainly virtual and dedicated servers. These hosting servers give you instant access with a great connection in a short amount of time. The host system is always covered worldwide and configured to exact specifications.
Some specifications are the advantages of the server:
– CPU: Various Intel Xeon processors (for dedicated servers) or 1-8 vCPUs (for virtual servers)
– RAM: 64 GB to 256 GB (for dedicated servers) or 512 MB to 32 GB (for virtual servers)
– Disk: Up to 2 x 2 TB HDD or SSD (for dedicated servers) or 20 GB to 600 GB SSD (for virtual servers)
– RAID: Hardware or Software (for dedicated servers)
– Data Center: 18 international locations (for dedicated servers) and 11 international locations (for virtual servers)
If you feel it is too difficult to decide the value for the parameters of your dedicated server or virtual server. Or maybe you're just getting started with hosting and don't know the parameters to choose from. You can choose a dedicated server or a pre-configured virtual server that Gcorelabs makes available.
With G-Core's servers there are quite a few operating systems you can choose and install such as Windows Server, Solaris, and many different versions of Linux. You can run multiple websites and install more software thanks to the SSH access that G-Core provides. With control of your hosting server, you can pay to use ISPmanager control panel in 2 versions, Lite or Business.
It will be quite difficult when you want to create a website if you are a beginner. However, pre-configured servers can make up for this shortcoming.
back to menu ↑
Service protects you from attacks – G-Protect
Protection against L3, L4 and L7 DDoS attacks
All nodes connected to the service provider have backup copies of all systems. This can clean and protect servers, network devices, data storage systems, and server management. Each node can handle at least 160 Gbps of active traffic and make the total bandwidth more efficient. 1. 5 Tbps.
You don't need to protect your own infrastructure, it's secure, and users may not notice your resources are under attack.
How protection technology works
– Analyze resources effectively. Resource load is analyzed in real time to find any statistical anomalies.
– Thorough technical analysis. Each new query undergoes a fundamental technical analysis of the customer who submitted it.
– Identify customer behavioral factors. If the customer has submitted more than one query during the monitored period, the customer's behavior on the website will be analyzed and an accurate decision will be made.
– Check the query for errors. The query is checked for existing suspicious signatures associated with the resource. Both coincidence and "same" can be tested.
– Conclusion about the validity of the query. As a result, the information is combined into a factor vector that is used to calculate the validity of the query.
Customer benefits:
– Gcore Labs protects you from low frequency attacks that start with the first query
-Support whitelisting and blacklisting IP addresses for clients
– HTTPS support with and without SSL certificate disclosure
– Provide statistics in your personal account
– False positive rate less than 0. 01%
– G-Protect provides load balancing, including Round Robin, Weighted Round Robin and IP hash
– 24/7 technical support for customers when required support.
back to menu ↑
Customer service and support
To ensure our customers get the best experience when using Gcore Labs services. This company has a 24/7 customer support service. If you have any problems with your shipment and using the service, you can contact this company's customer support staff by phone, email, live chat and online form. Existing customers can request support by submitting a ticket from the dashboard. I once asked for support via the control panel, the staff answered me in a few minutes. However, it took more time for them to solve the problem for me!
It can be said that the system of products in Gcore Labs is good and diverse. You can use many different services from this company. In this article, I only share with you some data that I have experienced. Hope they can help you.
back to menu ↑
Pricing
G-Core Labs has a price suitable for all types of customers. Where you pay a price for the traffic you are using, there is no big variation for certain countries or continents. However, in return you can choose the server locations with the best prices for you.
G-Core Labs with a 14-day trial that includes 300GB of free web traffic, while the basic free plan gives you 100GB recurring per month. There is no support beyond the internet knowledge base, but it can still be a simple means of discovering and mastering the properties of the G-Core CDN.
back to menu ↑
Configuration
Starting with G-Core Labs we opted for the free hosting plan, but you'll still need to enter billing details like card or PayPal. This is important, as it allows G-Core to initiate a quick payment once the $ 50 credit report is released. If you're running your own trial on a live website, that might be faster than you think, so it's essential to monitor your account balance.
G-Core Labs web control panel is quite simple and easy to use, when starting to select the product package with default settings and you can start by entering the root hostname, as well as adding a name. your domain.
There are many different alternatives available for more savvy customers. The CDN can pull web content from an individual resource or a group, optionally with a custom portal. It can connect using just HTTP, just by HTTPs or pick up right away. You can use a popular SSL certificate, or create a free Let's Encrypt certificate available on their system.
The next step is to activate your service, the website server will appear in a few minutes, and you are ready to get started.
back to menu ↑
Features
G-Core's default CDN settings are a good place to start, however, there are plenty of other alternatives provided if you need it.
These start with origin protection, where you can specify a CDN web server to handle requests in case the cache is missed. The caching options allow you to choose whether this is adjusted by your original web host or CDN, and also set a cache expiration time. If your server does not caching the HTTP header, G-Core will cache only the web content with the 20x or 30x HTTP code (redirect), ignoring the 40x and 50x error codes. That is an additional practical default option.
The compression properties vary from GZip as well as Brotli support to the Optimize large file distribution option that allows for caching data greater than 10MB in separate sections. This can't do any sort of transfer capacity magic – total download time continues to be comparable, but it minimizes the moment the client sees the first byte – however, it's a It's a welcome thing that you won't often find elsewhere.
An extensive list of protection tools allows you to manage access with secure tokens, change IPs, referral links, countries, user representatives, and more. This gives you many methods to limit hot links or other undesirable access to your document, as well as you can read the standard summary of what is offered on the support website. support.
Once you're up and running, G-Core's Dashboard keeps you up to date with compelling records of CDN traffic, transmission capacity, cache access rates and requests per second … You can also filter by time so you can check traffic over time accordingly.
Advanced analysis tools also help for better reporting, with information about cache usage by location, device, web browser, and operating system, and more.
The support team is available 24/7 to help you, including live chat, e-mail and you can also generate tickets. We tried our live chat solution and always got an answer within minutes. Yes, this support is better than what we usually see from other vendors.
back to menu ↑
What makes G-Core LABS?
G-Core Labs with top quality hosting and a global network of servers, well-designed dashboard and lots of helpful reports as you use the service, as well as detailed analysis. CDN traffic. It's great being their client, I can only say so to you.
Specification:
G-Core Labs
| | |
| --- | --- |
| Included Promo | Free CDN, Free Migration/Transfer, Free SSL Certificate, Free Website Builder, Money Back Guarantee |
| Uptime | 99.99% |
| Memory (RAM) | 3GB, 6GB, 8GB, 10GB, 16GB, 32GB, 64GB, 128GB, 256GB+ |
| CPU | 2 Core, 3 Core, 4 Core, 6 Core, 9 Core, 12 Core, 24 Core, 32+ Core |
| Server locations | Almaty, Bangkok, Buenos Aires, Dubai, Istanbul, Johannesburg, Khabarovsk, Kiev, Melbourne, Milano, Moscow, Novosibirsk, Prague, Santa Clara, Tashkent, Tel Aviv, Vienna, Vladivostok, Warsaw, Yekaterinburg, Chicago, Miami, New York, St. Louis, United States, Paris, Roubaix, France, Montreal, Toronto, Canada, Frankfurt am Main, Munich, Germany, United Kingdom, Amsterdam, Sao Paulo, Mumbai, Hong Kong, Seoul, Singapore, Tokyo, Australia |
| Specialised Hosting | Drupal Hosting, Forum Hosting, Joomla Hosting, Magento Hosting, Prestashop Hosting, Wiki Hosting, Ecommerce Hosting, WooCommerce Hosting, WordPress Hosting |
| Security Features | Automatic Site Backup, Ddos Protection, SSH Access, Two-Factor Authentication, Virus & Malware Protection |
| Number of Website | Multiple Websites |
| Disk Type | HHD, SSD, SSD NVMe |
All Packages
Web Hosting packages from gcorelabs.com
Gcorelabs VPS Hosting
Plans
cpu
memory
bandwidth
price
Gcorelabs Dedicated Server Plans
Plans
cpu
memory
bandwidth & traffic
price
Alternatives
G-Core LABS Alternatives