VPSMalaysia.com.my Review - One of the best hosting services in Malaysia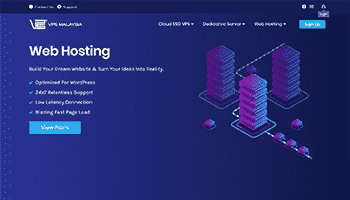 Basic features of VPSMalaysia.com.my
Optimized For WordPress Hosting
Blazing Fast Page Load
RAID 10 Technology & SSD
Low Latency Connection
24/7 Server Monitoring
Product is rated as #5 in category Web Hosting
VPSMalaysia.com.my Contact Details
Email: support@vpsmalaysia.com.my
Phone: +60321499314
Website: www.vpsmalaysia.com.my
Address: Computer Exchange 2 Data Center, 7118 Jalan Impact, 63000 Cyberjaya, Selangor, Malaysia.
Server Locations
New York, United States, Amsterdam, Netherlands, Cyberjaya, Selangor, Kuala Lumpur, Malaysia
Awards
The awards that this brand receives
You are looking for the best hosting service for your computer at a reasonable price. VPS Hosting is becoming more and more popular but it still tends to cause some confusion for those who do not know or understand the technology. One of them is vpsmalaysia.com.my, the following article will provide some information about it - one of the best hosting services.
PROS:
Free Domain Name
Free SSL Secure
30 days moneyback guarantee
Speedy SSD storage
99.99% uptime
Unlimited Email, MySQL & Parked
CONS:
Backups are an added cost
Prices are high
Overview of VPSMalaysia.com.my
---
What is VPS Malaysia?
VPS stands for Virtual Private Server (virtual private server). A VPS is similar to a shared host, that is, there are many VPSs placed on the same physical server, serving the needs of large websites, but the price of a VPS is higher than that of a shared host. The price of a VPS virtual server is higher than that of a shared host because shared hosting packages are shared resources from a physical server with very low resources.
VPS Hosting is the main combination of shared hosting and dedicated hosting. While you are sharing a server with a guest, you also have a server resource section dedicated to your needs. The rest of the server is shared according to the site's needs. Your section is a separate section for you.
Because it is essentially a small dedicated server, VPS can be useful for websites with large shared servers, but does not have its own operating system installed.
VPS Malaysia is a group of young, experienced, high performing individuals working together as a great web hosting company. The main goal of the group is to be able to produce web hosting products and services with optimal quality.
Having been in the industry for over 10 years, VPS Malaysia has gained as much, if not the experience needed in web hosting.
From the most basic to the most complex, Malaysia VPS can meet all your web hosting needs. They have witnessed the development of technology over the years, helping them better understand the world of web hosting and other related fields. With their young minds, they can find out how things work in this modern web hosting world at the present time. Their team is equipped with a mindset of a 21st century web hosting company. They are experts.
VPS Malaysia is currently one of the leading web hosting companies. However, they want to be the highest part of this challenging web hosting industry. They are a group of great minds, after all. And a great mind strives to be great for you. Everything they do is for us
To provide high quality web hosting products and services at affordable prices. All that Malaysia VPS wants is customer satisfaction. They believe that their customers deserve only the best. That is why they constantly yearn to top the list of the greatest among them.
back to menu ↑
Advantages and disadvantages of VPS Malaysia
Advantages
Excellent hardware solution: They use the most advanced technology in setting up their VPS hardware. VPS Malaysia tools meet industry standards and you no longer have to independently deal with all techniques. Just focus on bigger things.
Thorough Research & Development: The VPS hosting industry has a lot of potential and things can still get better. To achieve the best version of what we do, our research and development team is set up to constantly look for ways to innovate and revolutionize. VPS Malaysia leverages 3Ps: Accuracy, Performance and Professional. They perform like professionals with seamless precision.
Solid stress test and benchmark server: VPS Malaysia uses the best method in stress testing and testing servers. We insist regular testing before using our server. This makes the whole process unsafe and effective, giving you the type of results you have been looking for.
Monitoring server continuously: They monitor server performance closely to avoid unexpected failures. Their monitoring tools and their excellent team know how to eliminate server problems and know how to fix unwanted errors quickly. They will protect your business with all of them.
Good server optimization: What they want is to hinder your productivity. So they ensure that they get rid of regular downtime. They optimize the server to increase efficiency and minimize downtime. Their system monitoring and management tool is up to the mark.
Advanced caching: They use CloudLinux and NGINX caching technologies to provide fast loading times. Gone are the days when you had to wait 5 seconds to load the page.
Increase download speed: VPS hosting service of Malaysia only uses high-class equipment to give you the fastest download speed possible. No more need to bear very slow loading speeds.
Disadvantages
VPS Malaysia is affected by the operation and stability of the physical server that created it.
The use of a shared physical server makes your VPS dependent.
It takes time and money to upgrade resources and cannot expand much.
The provider does not support this service over the phone.
back to menu ↑
Product
VPS Hosting Server
This VPS node has more than 24 CPU Threads, RAID 10 hardware SSD, and 144GB RAM. We keep the system powerful. Here at VPS Malaysia, performance is a priority.
Forex VPS Hosting
This VPS node is the most stable node among all other web hosting services that we offer. It runs Copy Trade, Expert Advisor, Metatrader and other. Plus, its user interface is a blow. It looks like a personal desktop. It suits just about all kinds of platform preference.
Windows VPS Hosting
Windows VPS is a server designed to run operating systems from Microsoft called Windows Server.
Linux VPS Hosting
They provide web hosting services to everyone. By everyone, they mean everyone including Linux users and other users of operating systems that are yet to be widely known.
Shared Hosting
Their shared hosting services are designed to achieve optimum security and reliability. In shared hosting, a number of websites reside in one internet connected web server. This is why the host must be reliable to each of the website's safety and security.
They understand that web hosting can be costly at some point. Here at VPS Malaysia, they do our best to produce web hosting products and services at high quality at reasonable rates. Even with affordable pricing, they keep paramount quality intact. They maintain the quality of our products and services at their peak. They are even geared to giving more enhancements in the users' experience. Here at VPS Malaysia, they prioritize you.
back to menu ↑
The price is right for you?
VPS hosting service of Malaysia has free usage packages for 1500 hours. This is very helpful for customers because it can help customers better understand the service package they are about to use and can decide whether to buy the service pack or not. The price of Malaysia VPS hosting service is very diverse, depending on the memory of the package. Its price ranges from $2.58 – $259/ month.
Here are the steps to make a payment:
Step 1: Log in to the customer area with your username and password. Log in to your vpsmalaysia account at the customer area website.
Step 2: In the Payment section, select My Invoice. Click on my invoice under the payment option in the customer area.
Step 3: Under Status, find your unpaid invoice with a red stamp. Now click 'Unpaid'.
Step 4: Click here to extend the Payment methods menu. Select Bank / Acceleration online Malaysia. Choose your payment method as Malaysia online bank / e-wallet or credit card inside the unpaid bill.
Step 5: Select 'Click here to pay'. Just click here to pay box to proceed to pay by unpaid invoice.
Step 6: Click the payment option in the purple box on the top right. Choose your preferred banking service. You can choose Retail Bank or Business Bank. For example, you can choose Maybank2u as your preferred bank. Select a bank option to proceed with payment.
Step 7: You will now enter the secure online Payment gateway. Fill in your amount, order ID, Name, Email, Contact Number and Description. Please make sure all your details are correct before payment. After confirming, select Online payment via Maybank2u.
Step 8: You will at your bank website. Next, please click 'Continue' to continue. Click the continue button to proceed to payment.
Step 9: After that, you need to insert your registration login details in online banking. You need to set your username to continue and click the 'Next' button to insert the password.
Step 10: After that, you need to insert your password. Make sure your password is correct and your security photo is correct. Then click 'Login' to continue.
Step 11: Now your payment is one more step to complete. You need to click 'Request TAC' for security purposes. Your TAC will be sent to your registered phone number. After you receive it, you need to enter the number inside the box and click 'Confirm' to continue. Click request TAC number and the number will be sent by message.
Step 12: After your payment is completed, you will receive an email 'Payment confirmation' from VPS Malaysia.
It can be said that cloud storage service is still quite new to many people. Through this article, we hope you have the necessary information about VPS Malaysia to be able to choose the best hosting service for your computer.
Specification:
VPSMalaysia.com.my
| | |
| --- | --- |
| Included Promo | Free CDN, Free Domain, Free Migration/Transfer, Free SSL Certificate, Free Website Builder, Money Back Guarantee |
| Uptime | 99.99% |
| Memory (RAM) | 3GB, 6GB, 8GB, 10GB, 16GB, 32GB |
| CPU | 2 Core, 3 Core, 4 Core, 6 Core, 9 Core, 12 Core |
| Server locations | New York, United States, Amsterdam, Netherlands, Cyberjaya, Selangor, Kuala Lumpur, Malaysia |
| Specialised Hosting | Drupal Hosting, Forum Hosting, Joomla Hosting, Magento Hosting, Prestashop Hosting, Wiki Hosting, Ecommerce Hosting, Windows Hosting, WooCommerce Hosting, WordPress Hosting |
| Security Features | Automatic Site Backup, Ddos Protection, SSH Access, Two-Factor Authentication, Virus & Malware Protection |
| Number of Website | Single Website, 5 Website, 10 Website, 50 Website |
| Money-Back Guarantee | |
| Disk Type | SSD |
All Packages
VPSMalaysia.com.my Web Hosting
Plans
Storage
Website
bandwidth
price
Vpsmalaysia.com.my Forex VPS Hosting
Vpsmalaysia.com.my Windows VPS
Plans
cpu
memory
bandwidth
price
Vpsmalaysia.com.my Linux OpenVZ VPS

Plans
cpu
memory
bandwidth
price
Vpsmalaysia.com.my Linux KVM VPS

Plans
cpu
memory
bandwidth
price
Vpsmalaysia.com.my Linux Masternode VPS / Cold Wallet

Plans
cpu
memory
bandwidth
price
Space
VPS Standard
2 GB SSD
Space
VPS Advanced
5 GB SSD
Vpsmalaysia.com.my E3 & E5 Dedicated Server

Plans
cpu
memory
Storage
price
Alternatives
Hostiso Alternatives